Test Site Stockholm
Test Site Stockholm, together with its partners, set out to test and demonstrate sustainable mobility in Stockholm.
A shared vision
A city where people are at the heart of an inclusive sustainable transportation system.
Why
With the ever-increasing size of urban areas, the increasing congestion in our cities, and the pollution that reduces our quality of life, a new transportation system is required - one that will be flexible and safe for the users, sustainable for the society, and efficient for our every day lives. These conditions can be met by introducing a shared, connected, and automated mobility paradigm in our cities. Through building the environment we can understand how all components interact together.
Approach
To make a step towards that vision in the city of Stockholm, a place to develop, test and evaluate new ideas and technologies was needed. Test Site Stockholm was exactly that. A place where all partners met, worked together, and created a space in which new ideas could arise for the integration of innovative concepts and ideas that will enable us to build a unified system for connected and shared mobility.
How
Test Site Stockholm:
A collaborative effort aimed at the cross-fertilization of projects,
An environment for the testing and assessment of technologies,
An environment for tests and evaluations from society, user, and business perspectives,
A platform for policy and infrastructure dialogues
A knowledge base, about transport systems with shared, automated, connected vehicles
A (distributed) test site that is open to research, with "connectivity" and IT-infrastructure available
Together with

Structure
Through international collaborations that created a common framework for future transportation, Test Site Stockholm aimed at creating a modular architecture that enabled the design of a flexible system. It promoted the discussion for new policies and legislations that enable these new concepts to be broadly used. Finally, it further advanced the state-of-the-art by investigating missing knowledge and links for future development.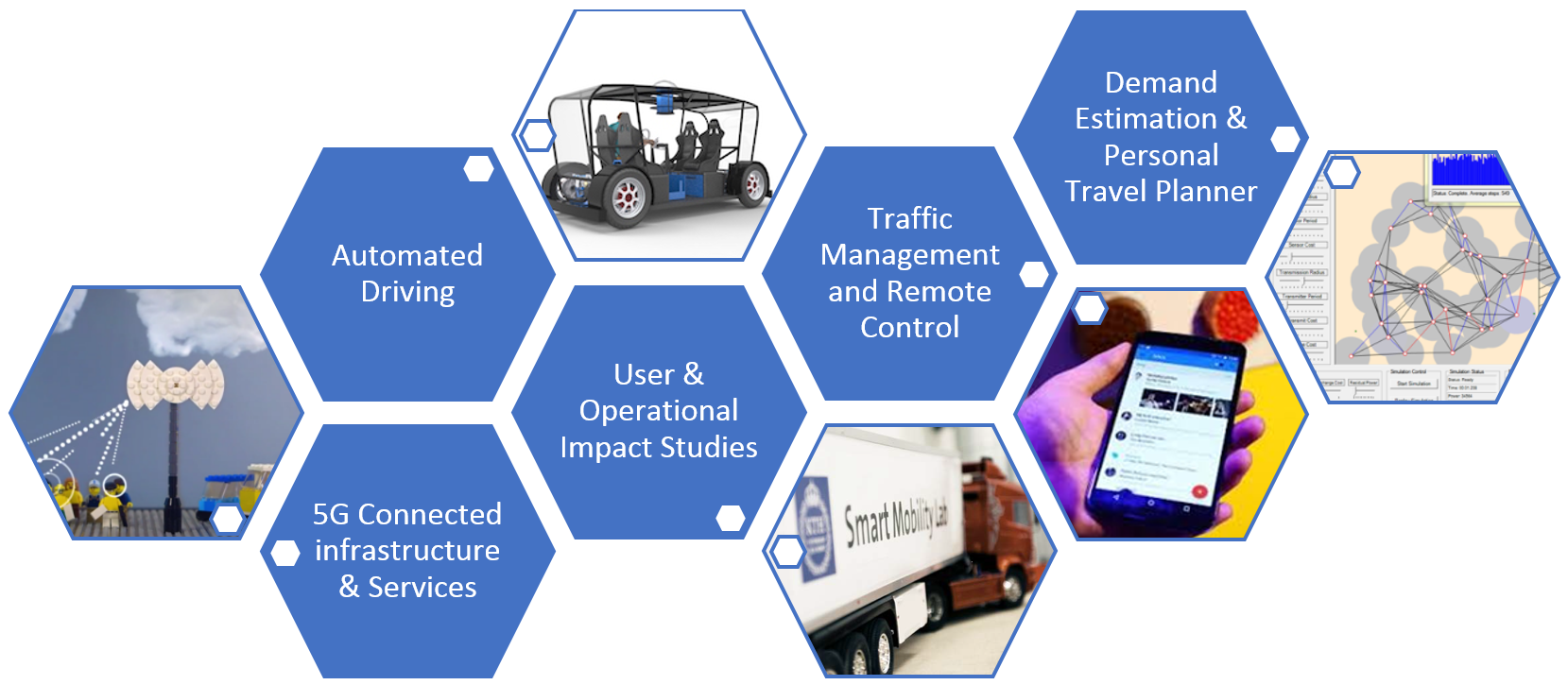 Involved projects / available resources
Interlink  - Together with Veridict and ITRL,
Automated Vehicle Traffic Control Tower - Together with Carmenta, KTH Mobile Services Lab and AstaZero,
NordicWay2 - Together with Carmenta, Ericsson and Scania
Trafikledning av uppkopplade och självkörande fordon - Utryckningsfordon - Together with Carmenta,
MAAS Södertälje - Together with Scania,
Innovation Cloud - Together with Ericsson,
Autopiloten - Together with Nobina,
RCV(-E) - Together with ITRL,
Urban ICT Arena - As a resource at Kista Science City,
Sustainable smart-parking management for connected and autonomous vehicles - Together with Urban ICT Arena
SMSSV - Together with 4Dialog,
UIDC - Together with 4Dialog,
GreenIoT   - Together with 4Dialog,
Gävle Innovation Arena - Together with 4Dialog
Funding organisations
The project is financially supported by Vinnova (Swedish Governmental Agency for Innovation Systems) and the Strategic Innovation Program Drive Sweden.