Evaluation of bus networks designed by an algorithm: A case study in Södertälje
What if we could utilize algorithms to design the most efficient public transport? In recent research, an algorithm was used to guide planners on how to design bus routes and results demonstrated huge improvements in time, cost, and sustainability.
Time: Tue 2023-02-14 08.30 - 09.30
Location: Zoom/ITRL
The design of public transport networks are unquestionably important for cities, it reduces congestion, helps in improving air quality, connects people to essential services and so on. Over time the development of these designs has been done through different procedures, from manual calculations to automated algorithms. However, there is a shortage of research involving a real life application of the results from algorithms. This research evaluates the feasibility of implementation of a bus network designed by an algorithm, with a case study in Södertälje, Sweden.
In order to accomplish this evaluation, the research focuses on assessing the generated bus networks from two points of view: the first concerns a comparative analysis (quantitative part) of the algorithm's results with the current bus network in Södertälje in terms of costs for the operator and passengers. The second concerns a qualitative analysis by carrying out interviews with the different stakeholders (Trafikförvaltningen-Region Stockholm and Nobina AB) who assess the bus networks from a more practical perspective.
The results of the evaluation shows bus networks with significant improvement for both the operator and the passengers, since their objective costs are reduced compared to the values of the current operating bus network. Also, the algorithm provides useful hints towards the re-design of a current bus network ensuring a more efficient route design. Last, the research can pave the way towards the evaluation, testing and use of algorithms in the design of new transit networks, as well as the improvement of the existing ones, with the main goal of a more sustainable society.
Speakers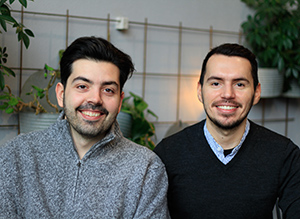 Anastasios Skoufas, originally from Greece, is a newly graduate from the master's programme in Transport and Geoinformation Technology from KTH. Currently working as a Research Engineer in the Division of Transport Planning at KTH with focus on public transportation data analytics.
Manuel Chala, from Colombia, completed the master's programme in Transport and Geoinformation Technology in KTH last summer. Now working as a trainee in Trafikförvaltningen (Public transport administration for Stockholm county) with focus on evaluation and analysis of future public transport scenarios from a macroscopic level.
The seminar is moderated by Erik Almlöf.
Registration