InterCity Log
Road traffic continues to face significant challenges regarding congestion, traffic safety and emissions. The combination of vehicle automation and vehicle-to-vehicle and vehicle-to-infrastructure communication may provide a solution to some of these issues.
The grand cooperative driving challenge is an event hosted by the partners in the i-Game project, supported by the European commission, with the purpose of demonstrating a combination of vehicle automation and vehicle-to-vehicle and vehicle-to-infrastructure communication. In 28th-29th of May, University teams participating will be challenged to perform cooperative driving maneuvers with prototype vehicles at a research facility in Helmond, the Netherlands.
KTH's interest in sustainable transportation and innovation, led to the creation of a team of researchers and students whose aim is to design their own cooperative solutions and enable KTH to participate in this competition. KTH team participates with two vehicles:
A Scania truck that will be able to control longitudinal velocity
The Research Concept Vehicle (RCV) which aims to achieve both longitudinal control and automated lane keeping – lane changing capabilities.
Performance is evaluated on three different traffic scenarios, designed to emphasize the benefits of using vehicle to vehicle communication. The first scenario tests the vehicles' ability to perform collaborative maneuvers while platooning on a highway. The second scenario is focused participants' ability to allow a vehicle of higher priority, cross an intersection. This is achieved through velocity adjustments from the lower priority vehicles. Finally, the third scenario focuses on the ability of the vehicles forming platoons to locate an emergency vehicle approaching them and allowing this vehicle to proceed in a safe manner.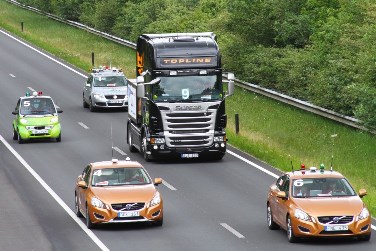 Since cooperation is the very concept of this competition, a cooperative spirit is built between teams and especially the Swedish teams which collaborate through the CoAct project. Exchange of ideas and concerns, shapes the conditions for a creative environment which has a very positive impact on the teams.
Since safety is of the highest priority in the design of the participating systems. Thus, thorough safety analysis of the systems and dedicated safety tests at the IDIADA facility in Spain are prerequisites for all participating vehicles.
KTH team currently consists of three research engineers, two PhD students, 5 MSc thesis workers and one student project.
Contact person for further information: Stefanos Kokogias (kokogias@kth.se)